Mark as New

Bookmark

Subscribe

Email this Message to a Friend
Good evening,

I've purchased the router in the title and I'm having a little trouble connecting to the internet with it.

I'm still using my original modem because I'm aware that I would need a VDSL one for a one box solution.

On the 'quick internet setup' program, it won't go past the 'DSL Line Configuration' page. I select which annex I want, press next, it starts to detect my connection type and it just goes back to the DSL line configuration page.

Don't suppose anyone would be kind enough to lend me a hand setting this up?

Thanks
Craig
Mark as New

Bookmark

Subscribe

Email this Message to a Friend
The modem LAN1 should connect to the router WAN using an ethernet cable. Scenario 2 below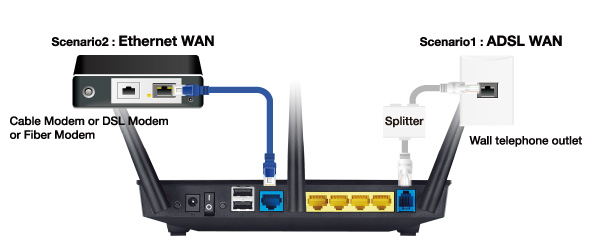 _ _ _ _ _ _ _ _ _ _ _ _ _ _ _ _ _ _ _ _ _ _ _ _ _ _ _ _ _ _ _ _
If you found this post helpful, please click on the star on the left
If not, I'll try again
🙂
Mark as New

Bookmark

Subscribe

Email this Message to a Friend
I've connected the devices using scenario 2 🙂
I've been into WAN settings, 'WAN transfer mode' is set to 'ADSL WAN (ATM)'.
In the PPP settings, I've put bthomehub@btbroadband.com as the username and the password left blank. But the DSL connection screen still does the same thing
Craig
Mark as New

Bookmark

Subscribe

Email this Message to a Friend
Have you set the wan port to pppoe? Try putting a space or bt as password.