Mark as New

Bookmark

Subscribe

Email this Message to a Friend
FTTP Infinity 4 - 10mbit at best. 4.36mbit now :(
I'm getting quite tired of this, and need a bit of space to vent out and log how I get on with this.
I've already called the FTTP BT dept and they're sending an engineer because there "might be a problem". I think there's an almighty problem alright
I've had Infinity 4 installed since the beginning of the year. I got 300mbit, strangely not 330mbit, but I hit my estimated speed nigh on all the time. Past 3 or 4 weeks or so this keeps happening: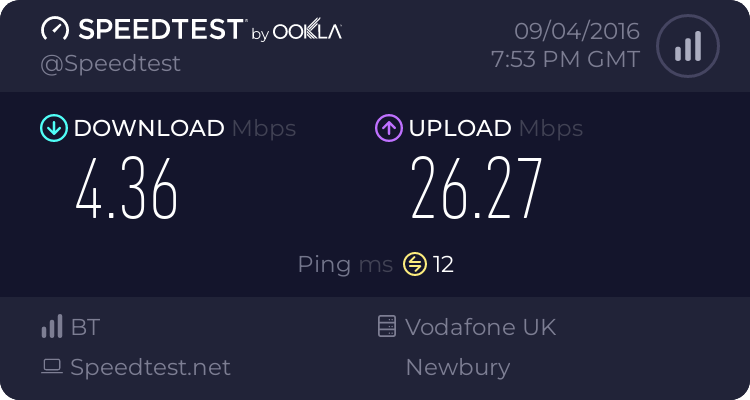 Even the sites I imagine get some kind of priority of traffic, like iPlayer and Netflix fall down. During the day I get about 100-150mbit on a good sprint, otherwise it falls back down to similar levels above.
Will let you know how I get on. Hopefully some technical insight if I gather them, that I'm sure will interest some and may even help others in the future.