Mark as New

Bookmark

Subscribe

Email this Message to a Friend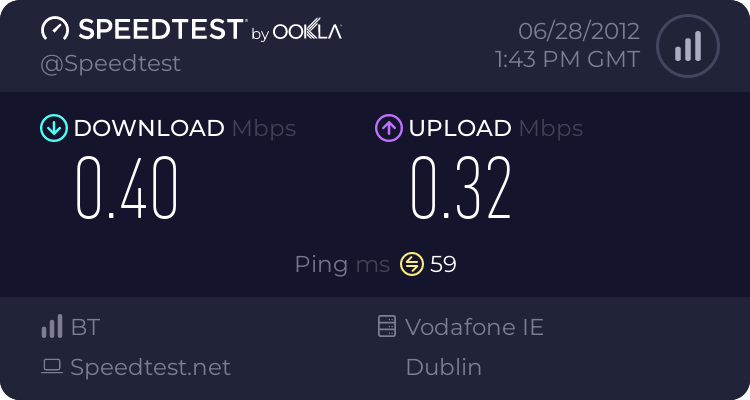 Yesterday I was getting 2.5mb/s - 0.36 mb/s which I guess is my max after the exchange update.
Also I'm really confused about speedtest.net too. It tried to find the best server based on ping and it says that I'm in Ireland (I live in Peterborough, England). It seems everytime I restart the router I'm living in a different part of the country..?
Here are my stats..
| | |
| --- | --- |
| Line state: | Connected |
| Connection time: | 0 days, 00:05:15 |
| Downstream: | 2.563 Mbps |
| Upstream: | 448 Kbps |
ADSL Settings
| | |
| --- | --- |
| VPI/VCI: | 0/38 |
| Type: | PPPoA |
| Modulation: | G.992.1 Annex A |
| Latency type: | Interleaved |
| Noise margin (Down/Up): | 8.1 dB / 13.0 dB |
| Line attenuation (Down/Up): | 60.0 dB / 31.5 dB |
| Output power (Down/Up): | 17.4 dBm / 12.5 dBm |
| FEC Events (Down/Up): | 550289 / 78 |
| CRC Events (Down/Up): | 4638 / 96 |
| Loss of Framing (Local/Remote): | 0 / 0 |
| Loss of Signal (Local/Remote): | 0 / 0 |
| Loss of Power (Local/Remote): | 0 / 0 |
| HEC Events (Down/Up): | 30998 / 73 |
| Error Seconds (Local/Remote): | 364 / 140 |