Mark as New

Bookmark

Subscribe

Email this Message to a Friend
lost 13 meg speed in 2 weeks
I had Infinity installed 2 weeks ago and was very impressed with the 37 meg d/l speeds i was getting up untill today when suddenly im getting a max of 24 meg. I have noticed other people have had similar issues on here and would like to know how/if i can get my line back up to the speed it was at. i have done the bt speed test and my results are below along with a speed test.net result from when my speeds were at 37meg. cheers.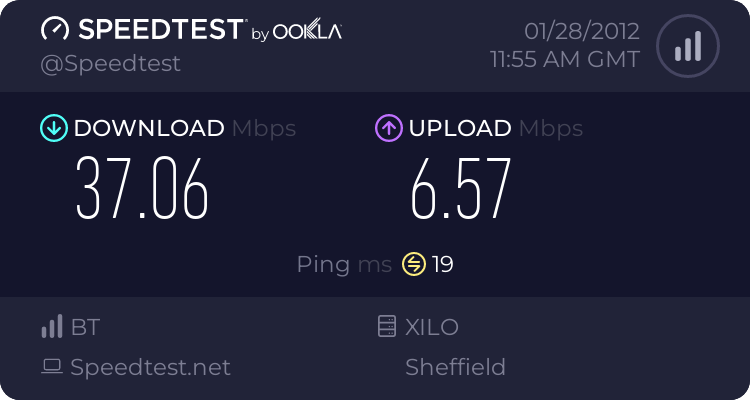 Test1 comprises of two tests

1. Best Effort Test: -provides background information.



| | |
| --- | --- |
| | Download Speed |
| | 23106 Kbps |

0 Kbps
25247 Kbps
Max Achievable Speed

> Download speedachieved during the test was - 23106 Kbps
For your connection, the acceptable range of speedsis 12000-25247 Kbps .
Additional Information:
IP Profile for your line is -25247 Kbps


2. Upstream Test: -provides background information.



0 Kbps
10000 Kbps
Max Achievable Speed

>Upload speed achieved during the test was - 6096 Kbps
Additional Information:
Upstream Rate IP profile on your line is - 10000 Kbps



We were unable to identify any performance problem with your service at this time.
It is possible that any problem you are currently, or had previously experienced may have been caused by traffic congestion on the Internet or by the server you were accessing responding slowly.
If you continue to encounter a problem with a specific server, please contact the administrator of that server in the first instance.

Please visit FAQ section if you are unable To understand the test results.